from GuluFuture.com Website
COMET BOARD ZAPPED AFTER
NASA CAUGHT FAKING IMAGES
7 Photos Missing in NASA Web Imagery

Massive Solar Flare STRIKES COMET

Comet now on Earth Trajectory?

Solar Wind Data Confirm Event!

Ridge Issues Ominous "Get Food" Warning

Comet Discussion Board Zapped After

Members Caught NASA Faking Images
STATEMENT BY GULUFUTURE HERE
MASSIVE SOLAR ERUPTIONS

have accompanied the close solar flyby of the comet NEAT Tuesday. One coronal mass ejection plume at 05:00 hours 18 Feb. - Tuesday morning, extended at least 5 million miles from the surface of the sun toward the comet.

Other coronal discharges were observed extending in excess of 12 million miles.

In the early hours of Thursday morning around 6:30am the comet discussion board inexplicably went offline about thirty minutes after participants discovered that NASA had been faking web-images of the cometís passage past the sun on the morning of the 18th February.

Extraordinary Swirls on Latest Images. This image now comes with our mandatory NASA lo-cred cautionary.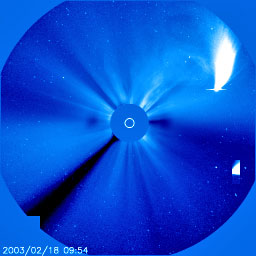 A web-image posted by NASA (left) and our copy (right) from a sequence of 7 missing hourly photos of the comet near the sun, had a telltale partial white comet image below the observed comet location.
[snapshot below] The photo thus shows two positions for the comet. This partial matched the exact position of the comet in later NASA images in the sequence posted from the SOHO satellite.
Which is real? This, or the above or neither?
A poster to the comet board placed a link to an animated composite (animated image right - press "F5" in your keyboard) showing that NASAís earlier and later images were duplicates and suggesting that a photo editing error had caused the revealing glitch. Both the discussion board and website went offline around thirty minutes later.


Solar Wind Data from the Space Environment Center now confirm striking changes in speed, temperature and density of the solar wind (click image left) around the time there was an interruption in the posted web images from the SOHO satellite. Similar changes in magnetic field data and low energy protons have been recorded.


BAD WEATHER EXCUSE - IN ADVANCE
A total of 7 hours of data from early Tuesday had been missing from the hourly photographs released by the SOHO project monitoring the cometís passage.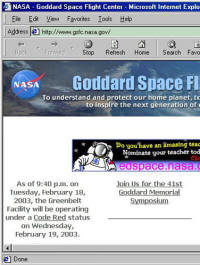 Live web imaging experienced interruptions of data by NASA --which in advance was already implausibly citing "weather problems" in the Wash. DC area as the reason. Also, the Goddard space facility displayed a Code RED (click image right) -- stated to be as a result of weather problems, and which instructed non-emergency staff not to attend Tuesday 18th through Wednesday 19th February.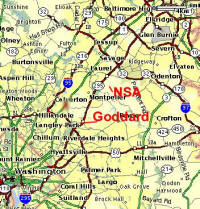 However the Rt 295, freeway (click image left) which goes by the NSA and Goddard facilities was clear Wednesday. Indeed, locals informed GuluFuture.com that the freeway is invariably kept open because of the importance of the facilities it serves. In any event, it was 50F in the area Wednesday 19th, and snow had stopped.

Also a US military website following the cometís flyby did not provide new images from 11:30pm EST Tuesday until late Wednesday afternoon. The images normally update several times an hour. At one point the website showed pictures from FEB 12th, 2003 in their 5 minute live update.


THE IMPLICATIONS
Given all this, the current image data has highly dubious credibility. The severity of the solar reactions could have torn the comet apart and even without this, the coronal mass ejection could cause significant weather, geomagnetic, and seismic effects on Earth.

One side-effect of the interaction with the sun may be that the orbit of the comet has been tightened. Orbit calculations had indicated it would be directly overhead [click right image] around Nov. 28, 2003, but if alternative theories about comet composition are correct, then the close flyby could have altered the trajectory disastrously.

Comet NEAT now on Earth trajectory?

Click image and find out.
Even if the comet were to miss (likely) then the possible debris field from the close approach to the sun could still pose serious dangers. But electromagnetic and solar wind effects could be felt much earlier.

On Wednesday, an ominous statement by Homeland security chief Tom Ridge, recommended American citizens to have "3-days supply of food and water as well as flashlights" in preparation for an "attack."

The Homeland Security site advises:
The new campaign seeks to reduce fears and provide information by providing individuals specific actions they can take to protect themselves, their families and their communities in the wake of an attack, or another emergency situation. Emergency Supply Kit: Start with three days worth of nonperishable food and water. Remember, even if your community is not directly affected by an attack, your life and daily routine may be disrupted. You may need to shelter at home for a couple of days. Roads and stores may be closed - electricity may be turned off - your water supply might be interrupted.
Slightly excessive for a terror attack perhaps?

BEST KEPT SECRET
Incredibly, there has been little media advance reporting of this most spectacular comet passage since Hale-Bopp and virtually no reporting of these current solar responses or the gaps in web imaging.

However one of the most intriguing aspects of all this, is that only four days ago, Dr. Geoffrey Sommer, of the Rand Corporation in Santa Monica, California said that secrecy might be the best option if scientists were ever to discover that a giant asteroid was on course to collide with Earth.
"Overreaction not just by the public but by policy-makers scurrying around before the thing actually hits because we canít do anything about it anyway ... to a large extent you are better off not adding to your social costs," said Dr Sommer, who is also an adviser on terrorism.
Thatís right, Dr. Sommer works for the Rand Corporation and is also an adviser on terrorism.

BIZARRE NASA MESSAGE RE LIVE WEB IMAGING:
"NOTE: The Washington DC metropolitan area is under a snow emergency. If the LASCO team has technical problems with the software that reformats telemetry into images for the web they may not be able to fix it until the emergency is lifted."

SUN DIAMETER EQUALS 870,000 MILES

NEAT DIAMETER EQUALS 348,000 MILES

LENGTH NEAT TAIL EQUALS 5,220,000 MILES

JUPITER DIAMETER EQUALS 88,782 MILES

TO SAY THIS BABY IS BIG IS A LITTLE BIT OF AN UNDERSTATEMENT AS IS ITS TOTAL INVISIBILITY.

NOTE: Comet size referred to is size of coma -actual comet approx size of Mercury
Spectacular Comet Hit by Solar Flare?
Spectacular images of the recently found NEAT comet show the cosmic voyager more than twice the size of planet Jupiter may have been struck by a massive solar eruption.

Images from the SOHO (Solar and Heliospheric Observatory) satellite, which sits partway between Earth and the Sun and is designed primarily to monitor space weather, have on Tuesday morning shown a massive solar plume extending over a 5 million miles above the sun -seemingly towards the comet. But though the photography is time-lapsed, there are 7 hourly photographs missing from the data released by the SOHO project -meaning it is impossible to determine if the plume later extended to strike the comet.

A coronal mass ejection (CME), already appears to have hit the comet Monday, according to SOHO deputy project director Paul Brekke. The SOHO imaging shows sunlight reflecting off gas and dust from the cometís nucleus and hydrogen solar wind from the sun. The comet has been in LASCOís imaging domain since Sunday. It will begin to move out of the field of view around 5 a.m. EST on Thursday, Feb. 20.