by Joël van der Reijden
December 25, 2005
from ExposureOfHiddenInstitutions Website

The Bohemian Grove is one of the more important places in the United States where businessmen, politicians, army officers, and scientists can sit around with each other and talk about anything they're interested in. Although networking is officially not allowed, some business deals can always be made behind a couple of trees. The quote "makes it easier to pick up the phone" has been mentioned more than once. Politics can be discussed openly and whether a particular candidate is liked by the Bohemians or not can make or break his career. About 85% of the Bohemian Grove members are from California.

If you are interested in my thoughts on the symbolism surrounding the Cremation of Care and the Bohemian Grove in general you can take a look here. Nothing of that is discussed in this article.

On this page you can find a short timeline of the history of the Bohemian Grove, a list of some of the relatively recent visitors of camp Mandalay, an analysis of the British visitors, and the layout and location of the Bohemian Grove itself. The membership list included with this article has 564 names on it, together with extensive biographies. There's a separate list of 104 camps which are located within the Bohemian Grove. At the bottom of this article you'll find many cached references.

All these are topics I generally missed in all the other articles about the Bohemian Grove, so I guess most of you will find this a useful expansion.


Timeline of the Bohemian Club and the Bohemian Grove

| | |
| --- | --- |
| 1872 | The Bohemian Club is organized in San Francisco as a gathering place for men who like the arts and literature. The clubhouse is located in the Astor Hotel on Sacramento Street and the owl is chosen as the club's symbol. |
| 1874 | The Club has 182 members. |
| 1875 | The Bohemian Club's motto, "Weaving spiders, come not here", first appears on a Club announcement. It was taken from Shakespeare's "A midsummer Night's Dream". |
| 1877 | The Club has outgrown the Astor Hotel and moves to 430 Pine Street in San Francisco. |
| 1878 | In 1878 several dozen Bohemians hold a Jinks in the forest in Sonoma County near what is now known as Camp Taylor (California Historical Society, Bohemian Club 1947). This was the start of a long Bohemian tradition of trekking to the Sonoma County redwoods during July and August of each year for camping and self entertainment. |
| 1882 | The Club's patron saint becomes John of Nepomuk. The legend says that St. John was killed in 1393 at the orders of Wenceslaus IV, King of the Bohemians & King of the Holy Roman Empire, because he didn't want to disclose the confessional secrets of Queen Johanna of Bohemia. Today, St. John symbolizes the right to privacy of the Bohemians. An interesting, but seemingly unconnected detail is that Wenceslaus IV struggled with his half-brother Sigismund I (same father) for the title of Holy Roman Emperor. King Sigismund was the one who reinstituted the ancient Dragon Court (Ordo Draconis), which still exists today (The British Queen and the Lord Mayor of London are involved with it). |
| 1885 | The extremely successful Joseph D. Redding is elected president of the Bohemian Club and in 8 years he will devise the Cremation of Care. Redding is a very successful attorney for the Southern Pacific Railroad Company (Harriman & Harkness owned) and considered a musical genius [Reference 2 on this page; more details in the article on the BG symbolism and in the membership list]. |
| 1887 | The Club has 561 members, which is a combination of literary figures and San Francisco businessmen. Among them are 4 members of the Crocker banking family, 3 Spreckles, William Randolph Hearst, Bay Area shipbuilder Arthur W. Moore, columnist and writer Ambrose Bierce, writer Henry George, and 14 officers from the Army and Navy. Other Bohemian Club writers are Charles K. Field, Ina Coolbrith, Bret Harte, Daniel O'Connell, and Mark Twain. |
| 1892 | The 70 ft. high Buddha statue is built within the Sequoia Valley, now known as the Bohemian Grove. It is modeled after the Daibutsu of Kamakura, the Great Buddha from Japan. The statue used to be part of the Cremation of Care. |
| 1893 | Joseph D. Redding creates the Cremation of Care and serves as High Priest of Bohemia during this ceremony. Within a couple of years he will move his business to New York where he again becomes part of 'high society'. The Bohemian Club starts renting a piece of land in the Sequoia Valley from the Sonoma Lumber Company. They will do this until 1899 when they make their first land purchase. |
| 1899 | The Bohemian Club buys a 160 acre piece of land in the Sequoia Valley, today known as the Bohemian Grove. The Club will make twenty-eight purchases of land over a 67 year period. Today it owns 2,712 acres. The New York Times writes two articles about the Cremation of Care and how impressive it is. |
| 1905 | The Washington Post reads: "The Taft party to-day visited the Bohemian grove of redwoods...", which is the first reference I have seen to presidents visiting the Bohemian Grove. |
| 1913 | The Cremation of Care ceremony is moved to the first weekend of the encampment. |
| 1914 | The Bohemian Club has 1259 members, of which 787 resident members, 241 non-resident members, 19 Navy officers, 49 Army officers, 29 faculty members, 114 associate members, and 20 honorary members. |
| mid 1920's | The Lake is built. It is about 100 feet wide and 400 feet long. Or for everybody outside of the United States: 30 meters wide and 124 meters long. |
| 1929 | The concrete owl is built and there are 169 camps in the Bohemian Grove. |
| summer 1933 | The Club takes up residence at the Sir Francis Drake Hotel when the dismantling of the old clubhouse begins. The club has grown to about 2000 members. A large new Club House is opened the following year. |
| 1941 | Membership drops to 1643 due to World War II. |
| 1981 | The Lake is relined with earth and concrete. It has an artificial waterfall tumbling into it, and water lilies are kept in natural-looking patterns by water jets embedded in the lake bottom. The only natural aspect to the lake is the early morning mist rising off of it every morning. |
| 1994 | There are 124 camps in the Bohemian Grove. |


Members of Camp Mandalay

Many camps in the Bohemian Grove contain very prestigious visitors. You have camps like Cave Man, Hideaway, Hill Billies, Hillside, Isle of Aves, Lost Angels, Mandalay, Midway, Owl's Nest, Sempervirens, Silverado Squatters, and Stowaway. Mandalay seems to be the camp for international relations and consists of many members officially or otherwise connected to the intelligence agencies.
Mandalay is the only camp you cannot just walk into and before you are allowed on the compound someone will ask you who you have an appointment with. If you're cleared for access, you are taken up the hill with a Bechtel-designed electric pulley. Many members of camps like Hill Billies or Stowaway (Rockefellers and Morgans) have been to Mandalay at one time or another.

| | |
| --- | --- |
| Visitors of Mandalay | They primarily represent |
| Armacost, Samuel Haydan | Bank of America; Merrill Lynch; Weiss, Peck & Greer L.L.C.; Stanford Research Institute (SRI) International; CFR. |
| Atwater, H. Brewster, Jr. | General Mills. |
| Bailey, Ralph E. | J.P. Morgan; Morgan Guarantee Trust; Du Pont; Conoco; Clean Diesel Technologies, Inc.; Fuel Tech. |
| Bechtels (3) | Bechtel Company; Trilateral Commission; Heritage Foundation (primary funder); CFR. |
| Brady, Nicholas F. | Dillon Read & Co.; Rockefeller University; SMOM; CFR. |
| Brandi, Frederic H. | Dillon, Read & Co.; Father German Steel Trust; Pilgrims Society. |
| Brandi, James H. | UBS Warburg; ThyssenKrupp. |
| Bush, George H.W. | CIA; U.S. president; Trilateral Commission; CFR; Atlantic Council of the United States; Father was SMOM. |
| Casey, William J. | SEC; CIA; Bechtel; Wackenhut; Export-Import Bank; Iran-Contra; CFR; Atlantic Council of the United States; SMOM; Associate of Armand Hammer. |
| Cooley, Richard P. | Wells Fargo; Seafirst Bank; RAND; CFR. |
| Ducommun, Charles E. | Stanford psychology and education. |
| Ehrlichman, John D. | Top adviser to Nixon. Convicted for Watergate. |
| Firestone, Leonard K. | Firestone empire; World Affairs Council of L.A. |
| Flanigan, Peter M. | Assistant to Nixon; Dillon, Read, & Co.; UBS Warburg; SMOM; CFR. |
| Flanigan, John | Relative of Peter. |
| Ford, Gerald | United States president 1974-1977. |
| Ford, Henry | Ford. Built everything for the the nazis and bolsheviks. antisemite. |
| Hawley, Phillip M. | Carter Hawley Hale Stores; Trilateral Commission; Business Roundtable. |
| Houghton, Amory, Jr. | Corning Glass Works; CFR. |
| Johnson, Charles B. | Franklin Resources. |
| Kaisers (3) | ICF Kaiser Consulting Group, Kaiser Foundation. |
| Kearns, Henry | Bechtel; Export-Import Bank. |
| Kennedy, David M. | Continental Illinois Bank; Trust Company; CFR. |
| Kissinger, Henry | Rockefeller and Fritz Kraemer protege; Le Cercle; Pilgrims; 1001 Club; Bilderberg; CFR; Trilateral Commission; Atlantic Council of the United States; Open Russia Foundation; J.P. Morgan; Kissinger Associates; Hollinger International; AIG. |
| Knight, Andrew S. B. | UK; The Economist; Rothschild & Murdoch interests; Reuters; Ditchley; Bilderberg; RIIA; Stanford Hoover Institution. |
| Lewis, Drew L. | Union Pacific Corp.; CFR. |
| Littlefield, Edmund W. | General Electric; Bechtel Investment Co.; Stanford Research Institute (SRI) International. |
| Marting, Walter A. | Hanna Mining Company. |
| McCone, John Alex | Atomic Energy commission; Bechtel; CIA; SMOM. |
| McLean, John G. | Continental Oil Company. |
| Mettler, Ruben F. | TRW Inc.; Space Technology Laboratories (STL); CFR. |
| Morrow, Richard M. | Amoco Corporation; National Academy of Engineering; Commercial Club; close to the Bechtels. |
| Neylan, John Francis | Republican party leader; friend of Nixon. |
| Nixon, Richard M. | United States president 1969-1974; Le Cercle; Pilgrims Society. |
| O´Reilly, David | ChevronTexaco; J.P. Morgan; Business Roundtable; Business Council; Trilateral Commission; National Petroleum Council; DAVOS. |
| Peterson, Rudolph A. | Bank of America; CFR; Bilderberg. |
| Powell, Colin Luther | Four-Star General; Joint Chiefs of Staff; US Secretary of State; Pilgrims Society; Trilateral Commission; CFR. |
| Reichardt, Carl E. | Wells Fargo; Ford Motor Company. |
| Rocard, Michel | French socialist prime minister. |
| Sage, Andrew G. C. | Lehman Brothers; Sage Capital Corporation; Robertson Ceco Corporation. |
| Shultz, George P. | Bechtel; J.P. Morgan Chase; Washington Institute for Near East Policy; Pilgrims Society; Trilateral Commission; CFR. |
| Smith, William French | Attorney general under Reagan. |
| Darrell M. Trent | Rollins Environmental Services, Inc.; National Security Council; NATO; Twice a deputy campaign manager for Reagan; President's Office of Emergency Preparedness; hosted CIA director William Casey in 1980. |
| Volcker, Paul A. | Chase Manhattan; FED; CFR; Bilderberg; Group of Thirty; Trilateral Commission; RAND; Le Cercle; Pilgrims Society; Japan Society; Ditchley; J. Rothschild Wolfensohn & Co.; Power Corporation; Hollinger International. |
| Watson, Thomas J., Jr. | IBM; Pilgrims Society; 1001 Club; CFR. |
| Weinberger, Caspar Williard | Federal Trade Commission; Bechtel; Iran-Contra Affair; Forbes magazine; Ditchley; CFR. |


The 51 gathered members of camp Mandalay represent the following organizations:

| | |
| --- | --- |
| CFR | 20 |
| Bechtel | 9 |
| Trilateral Commission | 8 |
| Pilgrims Society | 6 |
| Knights of Malta (SMOM) | 5 |
| Morgan banking interests | 4 |
| Atlantic Council of the U.S. | 3 |
| CIA directors | 3 |
| Ditchley | 3 |
| RAND | 2 |
| SRI International (chairman) | 2 |

Note: Available membership lists of the Pilgrims Society and the Knights of Malta are very incomplete. We have so little names of the 1001 Club I didn't bother counting these members in camp Mandalay.


British visitors

British visitors always seem to be closely connected to the British Crown and the major banks in the City of London. If they stay more than one day it is quite possible that all of these British representatives spent the night in camp Mandalay. The individuals below are the only ones I have found so far. Look for longer biographies in the membership list.

| | |
| --- | --- |
| Prince Philip | Made an off-season visit to the Bohemian Grove in November 1962. |
| Queen Elizabeth | According to Texe Marrs the Queen visited the Bohemian Grove in 1983. Would be interesting to confirm or disprove. Normally women aren't allowed in the Bohemian Grove. |
| Andrew Knight | Recent visitor of camp Mandalay. Governor of the Ditchley Foundations since 1981. Editor of The Economist and expanded its offices to Brussels. Director of Rothschild Investment Trust since 1997. Important functions at News Corp. and BskyB. Director of Reuters. Governor of the Atlantic Institute for International Affairs. Governing council of the Royal Institute of International Affairs. Member of the Steering Committee of Bilderberg. |
| John Major | Recent visitor who gave at least one speech at the Bohemian Grove. Prime Minister of the U.K. 1990-1997. Chairman of Carlyle Europe since 2001. Chairman of the Ditchley Foundation since 2005 and a member of the Queen's Privy Council. Le Cercle members Robert Cecil and Norman Lamont were running his election campaigns. Member of the Pilgrims Society. |
| Lord Christopher F. Patten | Held at least one speech at the Bohemian Grove in 1998. Member of the Privy Council since 1989. As the last Governor of Hong Kong, he left the state on July 1, 1997, together with The Prince of Wales, on board of the HM Yacht Britannia. |
| Lord Peter Levine | Former advisor to Margaret Thatcher. Became Lord Mayor of London in 1998. Gave a speech at the Bohemian Grove in 1999 called 'We Reinvented Government Before You Did'. Chairman of Lloyd's of London in 2004. Patron of the Lloyd's Yacht Club. |
| Sir John Keegan | An English military historian specializing in 20th-century wars. Lectured for 26 years at the Royal Military Academy Sandhurst. Defense Correspondent. Knighted in 2000. |
| Sir Hubert Brand | Rear-Admiral in the British navy, extra equerry to the King (1922), principal naval aide to the King (1931-1932), and a visitor of the Bohemian Grove in the early part of the 20th century (at least in 1929). One of his brothers, Lord Robert Brand, was a major player in Milner's Round Table. One of this brother's many positions was as a financial adviser to Lord Robert Cecil, chairman of the Supreme Economic Council of the Versailles Peace Talks (1919). Other family members also played a large role in the British empire. |


Layout and location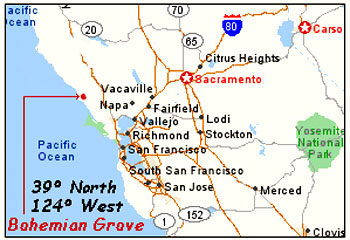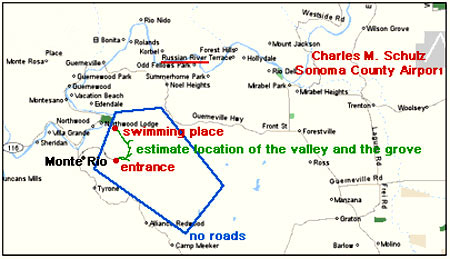 References
[1] 1892, Lewis Publishing Co., 'San Francisco County Biographies'
[2] June 25, 1899, New York Times, '"Bohemia" in California'
[3] July 9, 1899, New York Times, 'An Entertainment in a Forest Grove'
[4] April 22, 1906, New York Times, 'California's Women Here are Going to Aid' (Redding in New York)
[5] August 12, 1929, Time Magazine, 'Revived Rails'
[6] November 22, 1932, New York Times, 'Joseph D. Redding, Coast Attorney, Dies'
[7] August 7, 1933, Time Magazine, 'Bohemians'
[8] August 7, 1964, Time Magazine, 'Walden West'
[9] May 13, 1971, Nixon expresses his opinion about the Bohemian Grove
[10] July 17, 1975, G. William Domhoff, 'Is There a Ruling Class?'
[11] August 5, 1985, Fortune Magazine, 'The male manager's last refuge'
[12] 1987, Kerry Richardson, 'The Bohemian Grove and The Nuclear Weapons Industry: Some Connections'
[13] November 1989, Spy Magazine, 'Masters of the Universe Go to Camp: Inside the Bohemian Grove'
[14] November/December 1991, Extra!, 'Inside Bohemian Grove: The Story People Magazine Won't Let You Read'
[15] June 11, 1993, Washington Times, David Gergen comment about running naked
[16] 1994, Peter Martin Phillips, 'A Relative Advantage: Sociology of the San Francisco Bohemian Club'
[17] July 1997, Sonoma County Free Press, 'Supreme Court Justice Antonin Scalia Speaks at the Grove'
[18] 1997, anonymous, 'A Summer Job at the Grove'
[19] August 2, 1999, The Sacramento Bee, Bohemian Grove update
[20] July 2000, Alex Jones, 'Cremation of Care Transcript'
[21] July 2000, Don Eichelberger, 'Bohemian Club and the Power "Crisis"'
[22] 2000, Alex Jones, 'Occult Activities at the Elite Bohemian Grove in Northern California Exposed!'
[23] June 8, 2001, Peter Phillips, 'San Francisco Bohemian Club: Power, Prestige and Globalism'
[24] June 19, 2001, Counterpunch, 'Meet the Secret Rulers of the World'
[25] January 22, 2002, The Press Democrat, 'In jailhouse interview, suspect says he sneaked into exclusive Monte Rio club prepared to kill'
[26] June 18, 2003, SF Weekly, 'The World According to Bechtel'
[27] July 23, 2003, SF Gate, 'Hallinan panned for giving alleged Fajitagate victim a break Some say D.A. tries to help credibility of his star witness'
[28] July 2003, Sonoma County Free Press, 'Bohemian Grove'
[29] September 10, 2003, Mike Davis, 'Cry California'
[30] July 2004, San Francisco Chronicle, 'Bohemian Grove Gathers Again'
[31] July 22, 2004, New York Post, 'Gay Porn Star Services Bohemian Grove Members'
[31] July 24, 2004, Indymedia, 'The Grateful Dead Play At Bohemian Grove!'
[32] July 30, 2005, San Francisco Examiner, 'Bohemian Grove endorses Roberts; 10 yrs in Iraq'
[33] 2005, G. William Domhoff, 'Social Cohesion & the Bohemian Grove'
[34] September 6, 2005, Coast to Coast AM, Jon Ronson talks about the fanaticism during the Cremation of Care. Alex Jones and Ronson also talk about their tapes that got erased.